As a small business owner looking to increase brand awareness and boost sales, you have likely considered direct mail marketing at some point. Specifically, a Royal Mail Leaflet Distribution campaign allows you to get your message in front of tens of thousands of potential customers for a relatively low cost. However, to execute an effective campaign and see real results, you must go into the process with realistic expectations and a strategic approach.
This guide provides an overview of how Royal Mail's door-to-door and business leaflet distribution services work, tips for creating eye-catching leaflets, advice for targeting the right areas, and ways to track and optimize your results. With some upfront planning, a Royal Mail leaflet drop can be an extremely effective way to spread the word about your business, drive traffic to your store or website, and ultimately increase sales and revenue. The key is to do it properly. Follow the recommendations in this guide and your leaflets will end up in the hands of engaged consumers ready to become your next loyal customers.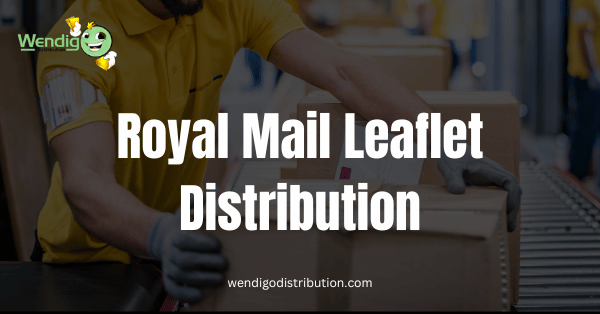 How Royal Mail Leaflet Distribution Works
Royal Mail leaflet distribution allows you to deliver marketing materials directly into the letterboxes of potential customers. Materials are distributed by your local Royal Mail delivery office to addresses on your specified mailing route.
To utilize this service, you must first create your marketing leaflets or flyers. Royal Mail has strict guidelines on size, weight, and content to qualify for their distribution service. Leaflets must be no larger than 240mm x 165mm and weigh up to 60 grams each. They cannot contain hazardous or illegal materials or personally targeted content.
Once your leaflets are approved, you select the mailing routes you want to target based on location and demographic information from Royal Mail. Routes typically contain 2,000 to 3,000 addresses. You then schedule a delivery date at least 10 working days in advance and drop off your leaflets at the local Royal Mail delivery office for distribution.
Royal Mail charges per leaflet distributed, so you only pay for the routes you select. Prices start around $75-$150 per 1,000 leaflets depending on the time of year and delivery speed. Royal Mail also provides reporting after distribution so you know which routes were covered and can measure the impact.
Utilizing Royal Mail for direct mail marketing provides an affordable, targeted way to reach potential new customers. When done strategically, leaflet distribution can be an extremely effective approach for local businesses to increase brand awareness and drive new sales.
The Benefits of Using Royal Mail Leaflet Distribution
Using Royal Mail's leaflet distribution service provides several benefits for businesses.
First, it allows you to reach a wide audience. Royal Mail already delivers to over 29 million addresses across the UK, six days a week. By including your promotional leaflets in their delivery, you can get your message in front of a huge number of potential customers.
Second, it is a cost-effective method of marketing. Leaflet distribution through Royal Mail is often more affordable than other direct marketing techniques. You only pay for the areas you want to target, and there are no upfront costs for buying a mailing list or design and print.
Third, it leads to a high open rate. Since Royal Mail leaflets are delivered directly with regular mail, recipients are more likely to open and read them. Studies show leaflets enclosed with letters or bills have open rates of over 80%. This gives you a better chance to grab attention and generate interest.
Finally, it allows for targeted and localized campaigns. You can choose specific postal code areas to deliver your leaflets based on your desired demographic. This precision targeting means you reach the people most likely to respond, while avoiding wasted coverage.
In summary, using Royal Mail for leaflet distribution provides an inexpensive yet impactful way to reach potential customers, gain exposure, and boost your business. By taking advantage of their vast delivery network and ability to target localized areas, you can run an effective direct marketing campaign.
Targeting Your Audience With Royal Mail's Door-to-Door Distribution
Royal Mail's door-to-door distribution service allows you to target specific areas and demographics with your marketing materials. By selecting certain postal sectors, you can focus your leaflet campaign on your key audiences.
To effectively target your audience, first determine who they are in as much detail as possible based on factors like:
Location (cities, towns, regions)
Age
Income level
Education
Lifestyle interests
Marital or family status
Then, research which postal sectors have concentrations of your target consumers using tools like Royal Mail's Door-to-Door Planner or the ONS Postcode to Output Areas lookup. Focus on sectors with the highest percentages of your key demographic groups.
Selecting Sectors
Once you've identified your target sectors, specify them when placing your door-to-door distribution order with Royal Mail. You have the option to distribute to:
All households in selected sectors
Odd or even house numbers only in selected sectors
A percentage sample of addresses in selected sectors (e.g. 50% or 75%) to save on costs
The minimum order is 5,000 items for door-to-door distribution. Royal Mail will then deliver your materials to each address in your specified sectors.
To evaluate the effectiveness of your campaign, you can also include response mechanisms on your leaflets like unique phone numbers, web addresses, or QR codes for different areas. Monitoring the responses from each sector will help determine which audiences to target for future mailings.
Royal Mail's door-to-door distribution service, combined with thorough audience research and testing, provides an affordable and impactful way to get your message in front of the right people. Targeting specific groups who are most likely to respond and engage with your brand will make the most of your marketing budget and time.
Designing Effective Leaflets for Royal Mail Distribution
Designing effective leaflets is crucial to a successful Royal Mail leaflet distribution campaign. To maximize your reach and response rate, carefully consider the following:
Content
Focus on benefits to the reader and include a clear call-to-action. Provide details on your product or service, contact information, and any current offers or promotions. Use simple language and short sentences for easy comprehension. Images are also useful for quickly engaging readers.
Layout
An uncluttered, organized layout with good use of whitespace is ideal. Use headings and bullet points to break up large blocks of text. Place your key message or call-to-action prominently at the top. For readability, use a clean, simple font in a large size, minimum 10 or 12 point.
Size
Choose a size, such as A5 or A4, that provides enough space for your message without seeming too large. An oversized leaflet may seem overly promotional and be discarded unread. A leaflet that is too small will require tiny text, making it difficult to read.
Delivery method
Consider how you want to distribute your leaflets. Door-to-door delivery allows highly targeted local distribution but requires more resources. Royal Mail can deliver your leaflets along with regular mail, either to all addresses or selected demographic segments nationally. This broad reach comes at a lower cost but with a lower response rate. You may want to test different options to determine the right approach for your needs.
Following these best practices in designing and distributing your leaflets through Royal Mail will maximize your chance of achieving your campaign goals. Carefully crafting engaging and relevant content, an uncluttered layout, appropriate sizing, and the right delivery method for your target audience are all key to success. With some trial and error, you can refine an approach that resonates with your readers and motivates them to respond.
Conclusion
In conclusion, Royal Mail leaflet distribution can be an effective means of raising brand awareness and promoting your business if used strategically. By following the tips and best practices outlined here, you'll be well on your way to executing a successful direct mail campaign. Remember to keep your message clear and concise, target the right audience, offer something of value, include a strong call-to-action, and follow up to measure your results.
While leaflet distribution may seem like an old-fashioned marketing tactic, when done right it can be a key driver of new customers and increased revenue for your company. The key is incorporating it as part of a multi-channel campaign to maximize your reach and ROI. With some time and testing, you'll determine the right mix of online and offline marketing strategies, with Royal Mail leaflet distribution potentially playing an important role.
How long will it take for my leaflets to be delivered?
Delivery of your leaflets can take between 3 to 14 days depending on the service you choose and your location. The Royal Mail aims to deliver 95% of leaflets within 7 working days for most areas of the UK. Allow additional time for more remote locations.
What are the delivery options?
You have a choice of door-to-door delivery or addressed delivery. Door-to-door delivery targets all residential and business addresses in your selected postcode. Addressed delivery targets specific addresses you provide. Door-to-door typically takes 7-14 days while addressed delivery takes 3-7 days.
What size and weight restrictions are there?
Your leaflets must be no larger than 240mm x 165mm and no heavier than 100g each. Royal Mail can deliver much larger quantities, up to 100,000 leaflets per drop, but the size and weight of individual leaflets must fall within the guidelines.
How much does Royal Mail leaflet distribution cost?
Pricing depends on factors like the area covered, delivery option, and leaflet quantity. As a rough estimate, door-to-door delivery for 5,000 A5 leaflets in a single postcode area starts around £200. The more leaflets and the wider the distribution, the lower the cost per leaflet. Discounts are available for higher volumes.
Can I target specific geographical locations or demographics?
Yes, you can select delivery by full or partial postcode. You can also target by ACORN demographic profiles to reach your target audience. Work with your account manager to define the best targeting for your campaign.
How do I get started?
First, you will need to set up an account with Royal Mail and provide details about your leaflet including size, weight, quantity, and targeting preferences. Royal Mail will then provide a price quote for your campaign. Once you approve it, you will need to provide the actual leaflets for delivery. Royal Mail will handle the entire distribution process from there.