You've started a new business and you're ready to get the word out. While digital marketing has its place, for local promotion leaflets can be an inexpensive yet effective way to reach potential new customers. As a small business owner, every dollar counts when it comes to marketing, so utilizing low-cost methods is key. With some time and effort, you can create eye-catching leaflets to spread throughout your neighborhood that will help establish your business as a trusted local brand. In this article, we came to know about How to Promote Your Business Locally with the Help of Leaflet.
In this guide, we'll explore how to design professional leaflets, the best places to distribute them for maximum visibility, and tips to boost your response rate. Promoting your business locally is all about making personal connections, and leaflets are a tangible way to share your story and passion for your products or services with the community. With a thoughtful marketing plan and consistent outreach, leaflets can be an impactful way to turn locals into loyal customers and help your business thrive.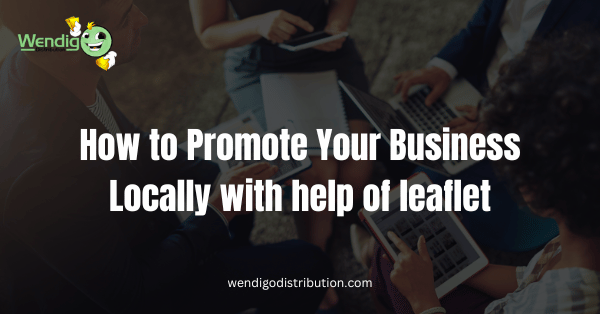 Design Eye-Catching Leaflets
To attract attention and entice readers, you need eye-catching leaflets. Follow these tips to design professional and impactful leaflets:
Choose an easy-to-read font in a bold, large size, at least size 16 or higher. Use the same font family throughout for consistency. For headings, increase the size to at least 22.
Use high-quality images that are relevant to your business or service. Place images strategically and caption them when needed. Images should take up about 20-30% of the leaflet space.
Organize content with clear section headings. Group similar ideas and information together. Use numbered or bulleted lists to break up large blocks of text and make details easy to follow.
Highlight important details like sales, events, or contact information with borders, boxes or a different background color. But don't overdo it and distract from the overall message.
Include a strong headline or title at the top of your leaflet that captures attention. Place essential information like your business name, logo, and contact details prominently at the top as well.
Use color to draw attention but limit yourself to 2 or 3 bold colors that complement each other. Too many colors can seem cluttered and chaotic.
Proofread carefully to ensure there are no spelling, grammar or punctuation errors before printing. Have someone else review to provide another perspective.
Keep your language friendly and concise. Share the key highlights of your business in a genuine, compelling way. Help readers understand the benefits and value.
Following these best practices will result in eye-catching, professional leaflets that effectively promote your local business. With an inviting design and compelling content, you'll capture attention and generate new interest and customers.
Identify Your Target Locations
To effectively promote your business locally with leaflets, you must identify strategic locations in your area to distribute them. Consider the following:
High-traffic areas: Place leaflets in locations where large volumes of your target customers are likely to frequent, such as downtown shopping districts, public transit centers, gyms, or recreational facilities. These high-visibility spots will maximize exposure.
Local businesses: Ask nearby businesses that complement or are frequented by your target customers if you can display leaflets on their countertops or include them in their bags. This taps into their existing customer base. Offer to return the favor for their business.
Residential neighborhoods: For many businesses like home services, residential areas with a high density of your target customers are ideal for door-to-door distribution or mailbox drops. Make sure you follow all local regulations regarding solicitation and mailbox usage.
Community message boards: Check if local community centers, places of worship, schools, or libraries offer public message boards where you can post your leaflets. These often see good visibility and engagement. Get permission first before posting.
With the right targeting and consistency, distributing leaflets in these key locations will raise awareness of your business among new potential customers in your neighborhood. Be sure to also include a call-to-action like a coupon or promotion to drive traffic and boost sales. Keep monitoring results to refine your local marketing strategy over time.
Distribute Your Leaflets Strategically
To effectively distribute your leaflets, strategically target high-traffic areas in your local community. Focus on places where your target customers frequently visit or pass by. Some recommendations:
Busy Neighborhoods
Residential areas with lots of foot traffic are ideal for leaflet distribution. Walk around your neighborhood and look for spots where people gather or pass by, like near mailboxes, bus stops, or community centers. Politely ask homeowners for permission to leave leaflets on their porches or in mail slots.
Local Businesses
Ask nearby businesses that complement or serve the same target market if you can display your leaflets on their countertops or include them in their bags. For example, ask coffee shops, gyms, and family restaurants in the area. This cross-promotion can benefit you both.
Community Event
Check if any local events like farmers markets, festivals, or yard sales are happening soon. Ask the organizers if you can set up a booth to hand out your leaflets and promote your business. You'll reach many potential new customers at once. Offer an incentive like a coupon or free trial to capture people's interest.
College Campuses
If your business appeals to college students or young adults, distribute leaflets on local college campuses, especially in high-traffic areas like dining halls, student unions, and dorms. Ask the administration office first about any guidelines for posting or distributing marketing materials on campus.
Waiting Areas
Medical clinic waiting rooms, vehicle repair shops, salons, and other service-based businesses that require waiting are excellent spots for leaflet distribution. Ask the business owners or managers first if it is alright to leave a small stack of your leaflets for customers to browse while waiting. Be sure to keep the area tidy and refill or replace leaflets as needed.
Following up to check on leaflet performance and making adjustments to your distribution strategy based on the results can help maximize your local marketing efforts. Track any increase in new customers, calls or website visits to determine the overall success and ROI of your leaflet campaign.
Offer Incentives and Promotions
To drive more customers to your business with leaflets, offering incentives and promotions is key. People love getting a good deal, so highlighting special offers will capture their interest.
Discounts and Coupons
Offering a percentage off products or services is an easy way to attract new customers. You might provide a coupon for 10-15% off a first purchase or for loyal customers. Be sure to place an expiration date on the coupon to create a sense of urgency.
Free Trials and Samples
Allowing potential customers to try your offerings for free is an powerful way for them to experience the value. Provide free samples, trials, consultations or estimates. Once they see the quality and benefit for themselves, they will be more inclined to become paying customers.
Bundled Packages
Creating package deals where customers get more for their money is appealing. Bundle multiple products or services together at a lower overall price. For example, offer three or six month prepaid packages or bundle a popular product with a new one you want to promote. Bundled packages also encourage customers to buy more upfront.
Limited Time Offers
Having special promotions for a limited time, such as one day only or first 50 customers, taps into the fear of missing out. Highlight the timeframe to take advantage of the deal for the best response. These types of offers also create excitement and word-of-mouth marketing.
Using a combination of these incentive and promotional strategies on your leaflets will maximize the return on your marketing investment. Be sure to also include strong calls-to-action on your leaflets, such as "Call today!" or "Visit our website to learn more!" to prompt people into contacting your business. With the right mix of offers and follow-up, leaflet marketing can be an affordable way to boost your local visibility and sales.
Track and Measure the Results
To determine if your leaflet marketing campaign was effective, you need to track key metrics and analyze the results. Some of the most important factors to measure include:
Response Rates
Keep records of how many people respond to your leaflets by visiting your business location, website, or contacting you. Calculate your response rate by dividing the number of responses by the total number of leaflets distributed. A higher response rate indicates your messaging and offer resonated with recipients.
Sales Conversions
For leaflets aimed at generating new sales or customers, track how many people actually made a purchase or signed up for your services. Your sales conversion rate is calculated by dividing the number of sales by the total number of responses. If your conversion rate is low, you may need to improve your sales process or the relevance of your offers.
Redemption Rates
For leaflets containing special offers like coupons or discounts, redemption rate is essential. This is calculated by dividing the number of redeemed offers by the total number distributed. A good redemption rate means your promotional tactic was effective. A poor rate could mean your offer lacked appeal or that you didn't distribute enough leaflets.
Cost per Lead or Customer
Compare your total costs for the leaflet campaign including design, printing, and distribution to the number of leads or new customers generated. Divide your total costs by the number of leads or customers to determine your cost per acquisition. The lower your cost per lead or customer, the higher your return on investment.
Analyzing these key performance indicators will help you determine what worked, what didn't, and how you can improve your future leaflet marketing efforts. Make adjustments to your messaging, offers, design, and distribution to increase response and conversion rates and lower your costs. With regular tracking and optimization, leaflet marketing can be an affordable way to promote your local business.
Conclusion
In summary, leaflets can be an effective tool for promoting your local business. By designing an eye-catching and informative leaflet, targeting high-traffic areas, and optimizing your distribution, you'll raise awareness about your products and services to potential new customers. While technology has opened up new marketing channels, traditional methods like leaflets remain impactful, especially for small businesses looking to build their customer base through local outreach. Don't overlook this simple but strategic tactic. With some time and effort, leaflets can deliver real results and new opportunities for your business. The key is making a great first impression, so put your best foot forward and start promoting!
FAQS About How to Promote Your Business Locally
What is local business promotion with leaflets?
Local business promotion with leaflets involves using printed promotional materials, such as leaflets or flyers, to advertise and raise awareness about a business within a specific geographic area, targeting local customers directly.
Why is leaflet promotion effective for local businesses?
Leaflet promotion is effective for local businesses because it allows them to reach a targeted local audience, create a tangible connection with potential customers, and convey detailed information about their products or services.
What are some essential tips for designing an effective leaflet for local business promotion?
Designing an effective leaflet involves using eye-catching visuals, clear and concise messaging, a strong call-to-action, prominently displaying contact information, and aligning the design with your brand identity.